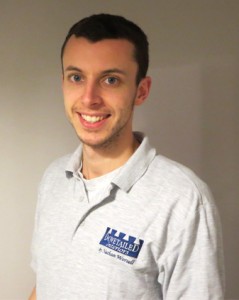 Right from the early days when Nathan won his primary school's Design and Technology Award at the end of year prize giving, he has always had a passion for designing and making things. When Nathan finished his formal education he knew exactly what he wanted to do and set about seeking out a job in the furniture making industry. After a trial at a local cabinet making firm in the summer of 2005, he began an apprenticeship with them that September. Nathan spent seven years there completing his training and carrying out a NVQ Level 3 in Furniture Making and Installation. Working for this company; making and installing bespoke furniture of the highest standard, gave Nathan a real drive and determination to pursue his career. Nathan has always dreamed of setting up his own business, and back in January 2013 that dream became a reality.
And so Dovetailed was established by Nathan in 2013. The name may be new, but those seven years of training have instilled in Nathan a real 'attention to detail' attitude, and a pride in his work. Dovetailed is founded upon these qualities; something that becomes evident when you see a Dovetailed job in the flesh. Whether it's a 'simple' and small job, or a total renovation of your kitchen or bedroom you are looking for, you can be assured of the same level of service and commitment throughout. And with Dovetailed offering you the option of a total project management service for the ultimate in stress and hassle free property development, you'll find that everything has been taken care of so you can have peace of mind whilst the work is undertaken.
Dovetailed is based in Milnrow, and serves Rochdale and the surrounding areas. If you are looking for a local company offering a professional service with real attention to detail, then I hope you will choose Dovetailed. If you live further afield, do get in touch as it may still be possible for Dovetailed to undertake work for you. Please take a look at the Testimonials page to see what Dovetailed's customers are saying.
Assuring you of my best attention at all times,
Nathan.